Bedroom
Does your bedroom need a makeover? Simply adding some new bed linen can make a big difference to how your room looks and feels You'll find a wide range of quality furnishings and bedroom décor to suit every home style in our online store.
If you need to take care of the essentials first, seek out sheets, pillows and quilts made from quality fabrics so you'll enjoy a great night's sleep every night. When your bed's as comfortable and supportive as it can be, browse our range of matching quilt covers and pillow cases and add blankets and throws to set any mood you desire in your chamber.
Don't forget to look after you mattress with fitted mattress protectors and mattress toppers in the right size for your bed, and add more personal touches with bedroom accessories.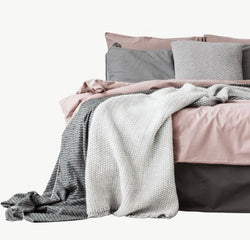 Price range selected ${ priceRangeString }
${ selectedFilters[filter.key].length } selected ${ selectedFilters[filter.key].join(', ') }
${ productCount | number }

item

items

in total
Sorry, there are no products in this collection