Buttons
Never run out of buttons again! Large or small, practical or decorative, stock up on buttons online at Lincraft for all your fashion projects.
Find clothing and upholstery buttons in all the sizes you need, from tiny sewing buttons under 10mm to decorative buttons over 40mm wide. Some buttons require sewing, but you'll also find snap buttons and fasteners that are as easy to fix to clothes as they are to open.
Buttons are a fashion accessory in their own right, so make sure you choose colours and styles that match your apparel. If you need a variety of buttons for different purposes, you can buy assorted button packs grouped by colour or size.
When you've stocked up on buttons, explore our other haberdashery essentials to enhance your creations with fabric dyes or ribbon and trimmings.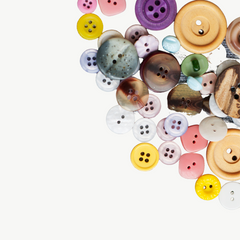 Price range selected ${ priceRangeString }
${ selectedFilters[filter.key].length } selected ${ selectedFilters[filter.key].join(', ') }
${ productCount | number }

item

items

in total
Sorry, there are no products in this collection